Featured Donors
We thank all our planned-gift donors for their generous support. Here are some of their stories.
Thomas E. Golden, Jr.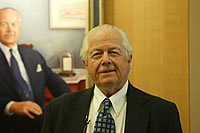 I attended the celebratory events marking STM's 60th anniversary and was fundamentally impressed by its Board of Trustees that included Judge Guido Calabresi, former Dean of the Yale Law School; Paul Kennedy the well-known historian; Fay Vincent former Commissioner of Baseball. More than trustees, however, their programs, student involvement, and vision for the future were dead on and so I proposed that if they built a new center within the immediate future, I would endow it in perpetuity with an irrevocable testamentary agreement. The Thomas E. Golden, Jr. Center opened December 2006 and it has been a great joy to see the impact it is having on Catholic life at Yale. STM will forever hold a special place in my life.
The Hanson Family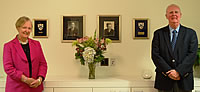 In memory of my father, Maury Hanson, Class of 1930 and a long-time Trustee of the chapel, my mother, before she passed away, created a Charitable Trust and designated a number of beneficiaries, among them were Yale University and Saint Thomas More Chapel. My father's two enduring contributions to Yale were his class and STM and I am grateful that through our families gift my father's name will forever be remember: The Maury F. Hanson Seminar Room.